Are your CAD files too large to send?
Do you have trouble securing your intellectual property because you're using unsecure file sharing?
OpenDXM GlobalX allows you to easily exchange data across company borders and is your leading managed file transfer platform for manufacturers, vendors and suppliers.
OpenDXM GlobalX is a secure data exchange platform that helps you integrate development partners, suppliers and joint ventures without the risk of IP theft.
Recent studies suggest that more than 80% of your development services are performed by external partners. If your workforce consists of multiple partners and global vendors, why wouldn't you have a secure data exchange platform?
How can OpenDXM GlobalX help?
​OpenDXM GlobalX is ​your secure engineering data exchange​ platform with:
managed-file-transfer for all types of and sizes of documents in all divisions
all over data security with end-to-end encryption with enforcement of corporate compliance
integrated process engine for fully automated file processing from application to application (A2A)
Why Use OpenDXM GlobalX?
Secure exchange needs to be both simple and easy to access. End users dislike complicated multi-step processes, and they will often forego a secure exchange altogether if it seems like too much work. This leaves your data vulnerable and exposed. PROSTEP addresses this issue by providing several user interface options to choose from for convenient and secure data exchange.
Multiple integration scenarios:
Outlook Integration

Data exchange with Outlook integration makes it easy for you to send and receive files no matter if the size is 1GB or more than 100 GB! Your files are automatically encrypted allowing for maximum security.

Windows "Send to" Integration

Wouldn't it be easy to share data – even CAD data – just by dragging and dropping? The Windows "send to" integration allows for just that by sending any amount of data in encrypted and traceable form.

Web Browser Integration

Data exchange so easy to operate that you can use it with the most common web browsers without any special training. This means no client software minimizing operating costs and no need for support.

Integrated into your IT Infrastructure

Our simple, ready to use integration components are available for different PLM, ERP and office systems. Other systems are quickly integrated with OpenDXM GlobalX via web services.
Data Security
ISO | IEC 27001:2013
Certified to ISO 27001:2013 (information and IT security)
Member of TeleTrust Association - Germany
Certified Security by ERNW Penetration Test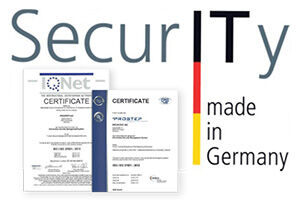 See how OpenDXM GlobalX Works
Availability is now above 99%, which is above the level stated in the requirements specification, despite increasing user numbers and data volumes...

611 gigabytes of data were uploaded and 768 gigabytes were downloaded... we and our suppliers have seen a visible reduction in the time and costs spent on data exchange as a result of using OpenDXM GlobalX.
Steffen Kopp
CAx Collaborative
The major benefit provided by PROSTEP's data exchange platform is that we now have a uniform solution that we can use not only to exchange data automatically but also to upload and download data manually...

That not only makes life easier for us here in the IT department but also for users in the specialist departments, which has a positive impact on the acceptance level. We have an increased the number of licenses within a very short period of time from the original 100 to 300.
Jorg Hartmann
Head of IT PLM
Used Globally by more than 1/2 a million users.