By Joachim Christ
The digital thread and the challenges it brings were the common denominators at PROSTEP INSIGHT DAYS 2023. Around 150 customers and interested parties took advantage of the online event to learn more about our comprehensive range of consulting services and solutions for shaping end-to-end digitalization. The Mars Rovers ran like a golden thread through the entire program.
PROSTEP INSIGHT DAYS combine the events PROSTEP TECHDAY and PROSTEP CONSULTING DAY, that used to be held separately, under a common guiding theme. The reason for this is that ensuring end-to-end digitalization requires not only powerful integration and collaboration solutions. Companies also need expert advice on how to implement new integration concepts and prepare their PLM architectures for the digital thread. PROSTEP offers customers both from a single source.
The digital thread is a prerequisite for the digital twin and business models based on it, said PROSTEP board member Karsten Theis at the start of the event, which was moderated by Julia Bauer in her customary professional manner. There are a variety of use cases for the digital twin in engineering, production and operation. The master use case, however, is the "product as a service", which requires traceability from development to operation and back again. As Theis went on to explain, this requires not only conventional data synchronization but also new integration concepts. Simply dumping the data into a data lake it not enough; it needs to be linked intelligently.
Our colleagues used the example of the Mars Rover to demonstrate how this combination of data linking and data synchronization can be realized with the help of the PROSTEP solutions OpenCLM, OpenPDM and OpenDXM GlobalX.
The model provided by NASA, which we further developed both digitally and physically, serves to make abstract PLM concepts tangible. It is a mechatronic product with a wide appeal that represents different industries, said Christian Gentili. We use it as a test bed for model-based systems engineering, additive manufacturing and the Internet of Things.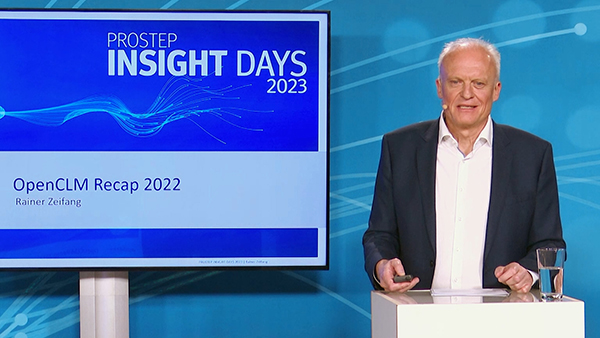 Test bench for end-to-end digitalization
Changes to a complex product like the Mars Rover typically involve multiple domains, whose work and data are related to each other. These relationships and dependencies can be mapped graphically using the digital thread platform OpenCLM without having to replicate the information itself. Rainer Zeifang and Anna Wagner explained how easy it is to take a changed requirement and use it to define the work steps involved in making changes to the software and to a chassis component in OpenCLM so that the vehicle can move better in steep terrain.
OpenCLM is a lightweight web application for managing complex development projects and ensuring traceability but not a tool for making changes. In the next step, Mirko Theiß showed how the change requests can be transferred to the authoring systems and management tools of the respective domains together with the data needed for their processing. In addition to the connectors, our PLM integration platform OpenPDM also provides a mapping service and workflow engine for this purpose that can be used for manual or processed-based data synchronization.
End-to-end digitalization is not only a challenge for companies but also for their supply chains. In the case of the Mars Rover example, one supplier was responsible for modifying the chassis. Therefore, our data exchange solution OpenDXM GlobalX came into play as another component of the end-to-end digital process chain.
Daniel Wiegand, Udo Hering and Sandra Basczczawski demonstrated a complete round trip, from the export of CAD and metadata to its downloading and processing by the supplier through to automated reimport into the client's backend systems, to the participants. The completed tasks were then published back to OpenCLM to ensure their traceability and make it possible to document them during audits.
Contributions from partners and customers
At the end of the first day, a recap session for our English-speaking guests was held for the first time. Brian Schouten, Technical Director Presales at our American subsidiary, explained the features of OpenCLM, OpenPDM and OpenDXM GlobalX and how they can be combined to form a backbone for ensuring end-to-end digitalization in a company and the supply chain. He also provided a brief presentation of the roadmap for the further development of the three solutions.
As a neutral solution provider, PROSTEP works closely with a number of different PLM vendors. The statements from Dassault Systèmes, PTC and Siemens Digital Industries Software, which were presented during the course of the day, made it clear how well this works. As Michele Del Mondo from PTC pointed out, the partnership is a win-win situation for both companies and customers.
Our customers also had their say at PROSTEP INSIGHT DAYS, starting with printing press manufacturer KBA, which has achieved end-to-end digitalization between its PLM and ERP worlds with the help of PROSTEP's OpenPDM integration platform. Representatives from packaging machine manufacturer Theegarten-Pactec and the two automotive suppliers thyssenkrupp Presta and BOS explained to the participants in short video contributions how PROSTEP's consultants had helped them select their PLM solutions. "We will continue to rely on PROSTEP as a trusted advisor because we still have a long way to go," said Jörg Hoffmann from BOS.
Focus on strategic PLM consulting
Key topics on the second day were the PLM architecture as the basis for digital thread and digital twin and the question of how companies can create a sustainable PLM architecture. By way of introduction, Martin Strietzel explained the main challenges posed by digital product development. In addition to the growing proportion of software and the resulting increase in complexity, the issue of sustainability in particular is having an impact on the way in which products are being developed. PLM must also be able to provide an answer to this.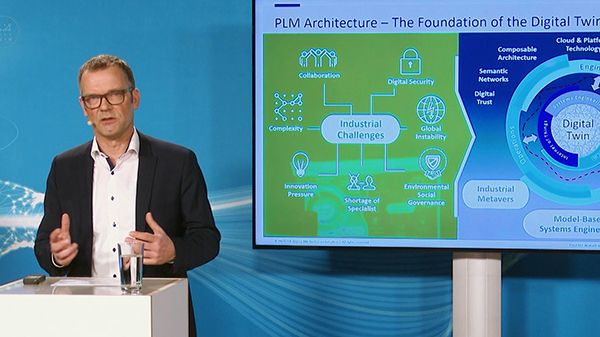 The gap between traditional development methods and new technologies and market requirements is widening, stated Alain Pfouga, managing director of the prostep ivip Association. The association's members are trying to close this gap by working together to address key digital transformation issues. These include full virtual development and testing ("digital first"), the role of software in products, people as protagonists of change and new approaches to collaboration. The association is, for example, looking at new topics such as exchanging systems engineering artifacts across company boundaries.
Systems engineering, or model-based systems engineering (MBSE), is one of the central solution approaches for interdisciplinary collaboration and represents an important competitive advantage, stated Prof. Dr. Iris Gräßler from the University of Paderborn in a video contribution. However, small and medium-sized companies are not yet taking this issue seriously. PROSTEP provides them with support when implementing systems engineering using a methodical approach that Carsten Franke explained to the participants. It takes account of the maturity of the company and also gives thought to how to take the stakeholders along on this journey.
As Peter Wittkop explained, digitalization is a key challenge for medium-sized companies in particular. They are, for example, faced with the question of how to deal with the growing proportion of software, how much MBSE is necessary and makes sense for them, and how PLM and ALM (application lifecycle management) systems can interact in this context. According to a PROSTEP study, the results of which were presented by Mario Leber, software development has not yet been integrated in the PLM processes at most companies. The study can be downloaded here.
Building a sustainable PLM architecture
Peter Wittkop, together with Stefan Just and Hardy Dümler, explained to the participants what a PLM architecture for enabling the digital thread looks like and how PROSTEP provides customers with support when it comes to creating such an architecture. The consultants use key elements of enterprise architecture management (EAM) such as process, data and application levels to define the PLM architecture. Based on discussions with the specialist departments, they develop an information model that describes the information flows in the company in a system-neutral way. This ensures a common and well-documented understanding of processes, said Hardy Dümler.
The PLM architecture plays an essential role in the "product as a service" master use case. It makes it possible to link data from different domains and thus establish traceability. Ontologies are important when it comes to linking data, said Karsten Theis. Ontologies are formally ordered vocabularies that describe the meaningful relationship between data. As Anna Wagner and Florian Lüssen explained, they allow semantically powerful models to be created by linking the vocabularies used by the different domains. PROSTEP's specialists have helped big-name customers such as Porsche create such ontologies. Mercedes-Benz is also taking advantage of PROSTEP's expertise to restructure its existing PLM architecture and implement a domain-driven design approach.
In the final session of PROSTEP INSIGHT DAYS, Mario Leber shattered a number of myths that are standing in the way of a successful PLM initiative. As he said, PLM is not primarily an IT issue, and it is also not true that all PLM projects are alike. Companies differ in terms of products, organization and infrastructure, which results in different requirements.
Sarah Giese explained PROSTEP's approach to capability-based PLM consulting to the participants. It allows future PLM capabilities to be determined and provides the basis for creating a harmonized requirements specification with little effort. She went on to say that a benchmark involving different use cases is an important step towards a reliable decision as to which system to use and towards a successful PLM initiative. A brief survey revealed that the vast majority of companies are obviously taking this to heart.
If you want to learn more about PROSTEP solutions and the capability-based consulting approach, no problem! You can find the PROSTEP INSIGHT DAYS contributions here.