By Karsten Theis
If proof of the legitimacy of face-to-face events was needed, then the prostep ivip Symposium 2023, at which PROSTEP was represented with a large stand and large staff, provided it. We have seldom had as many good discussions with partners and customers as this year. In addition, we demonstrated our unbroken commitment to the work of the association in numerous presentations.
With four keynotes, 45 lectures and six workshops, the symposium again offered a wealth of information about the current trends and challenges in the field of digital transformation. The bridge to sustainability promised by the motto of the event "Pioneering Digital Transformation for Sustainable Systems" initially remained a narrow path. Topics such as digital thread, digital twin, model-based systems engineering, and a bit of digital manufacturing dominated the agenda and IoT and relatively little ALM. The topic of artificial intelligence was also present in many presentations. In the keynotes of the two main sponsors VW and Siemens Digital Industries Software, I would have wished for a little more strategic dimension.
The presentations of start-up companies in the "elevator pitches" met with a very positive response from all the participants I spoke to. The board of the association wants to attract more young companies to the symposium. The Start-Up Award is a valuable addition to the agenda. Interestingly, the first prize was won by a young software manufacturer, SPREAD, which pursues similar concepts of cross-system data linking as we do with OpenCLM. It seems we are on track with our investment in the Digital Thread and Traceability solution.
OpenCLM was also the PROSTEP solution that aroused the most interest at our stand. In addition, many of the people we spoke to were interested in our joint consulting offer with BHC regarding the integration of ALM and PLM. A pleasing development that shows that we are now perceived on the market as a competent partner for topics such as model-based systems engineering or software-defined products.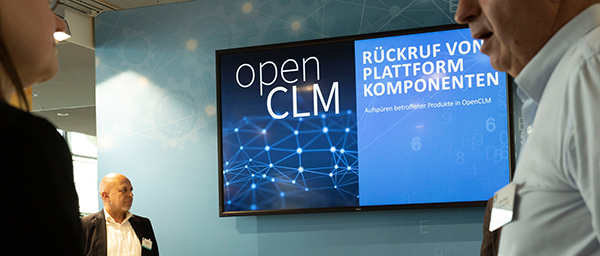 A total of four speakers from PROSTEP and BHC reported on the progress of their projects at this year's symposium, for example in the standardization of the digital data package or the definition of best practices for the exchange of SysML models between OEMs and suppliers. In addition, we organized a very interesting workshop on data networking in PLM infrastructures using ontologies together with Porsche.
Overall, attending the symposium was worthwhile for us. Not least thanks to the Mars Rover model, we attracted many visitors to our stand and made good contacts, which will certainly result in one or the other project in the coming months.