Much to the delight of participants and organizers, this year it is once again be possible to meet up in person at numerous events addressing the topic of digitalization. PROSTEP has in recent months taken advantage of this fact and flown its flag at numerous events. We were able to give potential customers a better understanding of our consulting expertise and our range of solutions in face-to-face talks and presentations.
Siemens Realize LIVE Europe was held at the end of May in Berlin, parallel to the Hanover trade fair (HMI). With an estimated 500 participants and approximately 300 presentations, Siemens Digital Industries Software's three-day in-house exhibition was the first major German PLM event to again be held live, although it was not as large as it was prior to the pandemic. One of the hot topics this year was IT security for smart products.
Siemens presented an almost inexhaustible software portfolio for engineers in Berlin and is also expanding its range of partner solutions. Even though the roadmap for integrating Teamcenter and SAP provided some insights, it left a number of the users' questions unanswered. On the whole, we used our participation in Realize LIVE Europe to renew existing contacts and establish new contacts. A quality product presentation allowed us to draw the attention of a number of interested parties to our solutions.
A few weeks later, the Siemens PLM User Group hosted PLM Connection 2022 for the first time as a hybrid event at Lufthansa Conference Center Seeheim and on a virtual conference platform. With over 500 participants on site and another 300 seated in front of their computer screens, the event was even better attended than the event in Berlin.
As a Gold Premium Sponsor, we had a large stand in a good location, which attracted a large number of visitors. Our Mars Rover model again proved to be a major public attraction. The team at our stand was pleased with the many conversations they had with high-ranking contacts. Our presentation on the Teamcenter integration in our data exchange platform OpenDXM GlobalX was also well attended. On the second day, we also had the privilege of demonstrating our digital twin expertise in a keynote by Karsten Theis.
The highlight of this year's event calendar was the prostep ivip Symposium. The world's largest, independent "family gathering" of the PLM sector was held as a live event, attended by well over 500 participants, for the first time in two years. As one of the sponsors, we had a large exhibition stand at the ICS in Stuttgart and the model of the Mars Rover as an eye-catcher, which attracted a large number of visitors.
We were also well represented "on stage", with our employees giving five presentations and helping organize two workshops. In particular, the presentation on restructuring the monolithic PLM landscape at Mercedes-Benz, which PROSTEP is providing with active support, generated a great deal of interest among participants. We had numerous discussions with potential customers at the symposium, which seemed to indicate that companies will be investing even more heavily in digitalization in the future.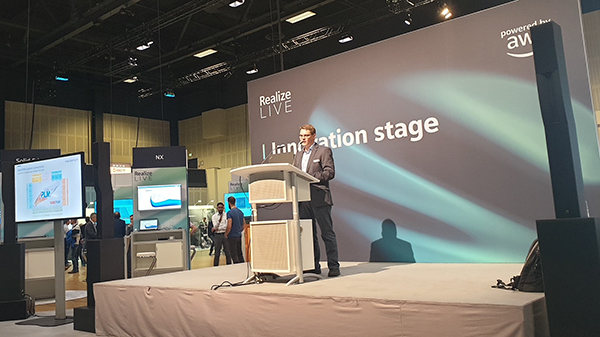 Following a three-month delay, COMPIT'22 was once again held as a live event near Siena, with numerous guests from Europe, the USA and Asia. Over the course of three days, the 21st Conference on Computer Applications and Information Technology in the Maritime Industry provided a good overview of current trends in the development, production and operation of maritime systems.
Our colleagues from Hamburg presented our consulting services and solutions for the maritime industry and highlighted their shipbuilding expertise in two presentations.
One of our young colleagues, Ulrike Lutz, presented their contribution to the ProProS research project. The aim of the project is to create a digital twin for planning and controlling manufacturing and assembly processes at shipyards. The demonstrator's user interface makes it possible to create plans, track execution and compare planning and execution in shipbuilding.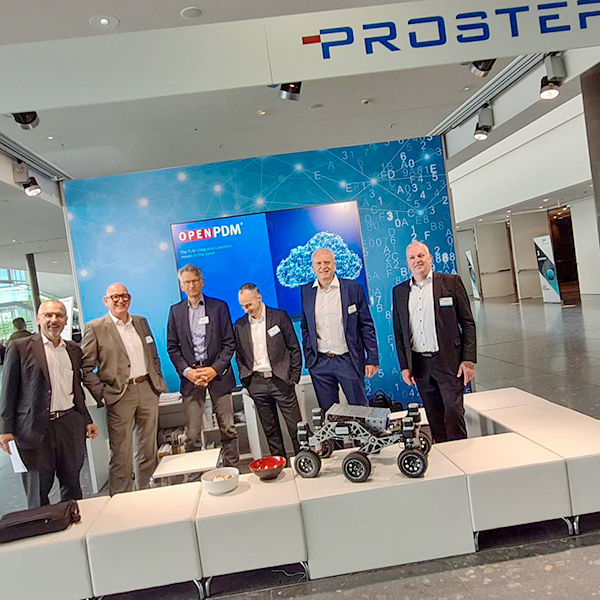 In another presentation, we discussed the current possibilities and limitations of the data exchange format OCX. This new format makes it possible to exchange shipbuilding-specific CAD data between design offices, shipyards and classification societies. It has been very well received by vendors. In addition to PROSTEP, almost 30 other companies have joined the OCX consortium, including almost all the leading CAD vendors.
This year's PDM Implementor Forum organized by the prostep ivip Association in Darmstadt, where we discussed further development of the STEP AP 242 standard with the other project partners, was a home game for our colleagues. Specific focus was placed on the XML-based exchange of PLM information and support for additional use cases. Now that initial transfer has to a large extent been covered, focus is now being placed on providing reliable support when it comes to exchanging change information. This can significantly reduce the volume of data exchanged. An AP242 Day will once again be held in Munich this year and will be sponsored by BMW. Both users and vendors will be giving presentations on AP242 at this public event.
People in the USA also want to travel and attend trade fairs and conventions in person again. Thanks in no small part to our successful sponsorship, Dassault Systems' COExperience conference in New Orleans, with its 500 participants, was much better attended than originally expected. We demonstrated our comprehensive know-how relating to the 3DEXPERIENCE platform in advance with presentations on collaborative supplier integration, PLM data migration, customer integration in the context of the digital twin, and data exchange in the aerospace and automotive industries.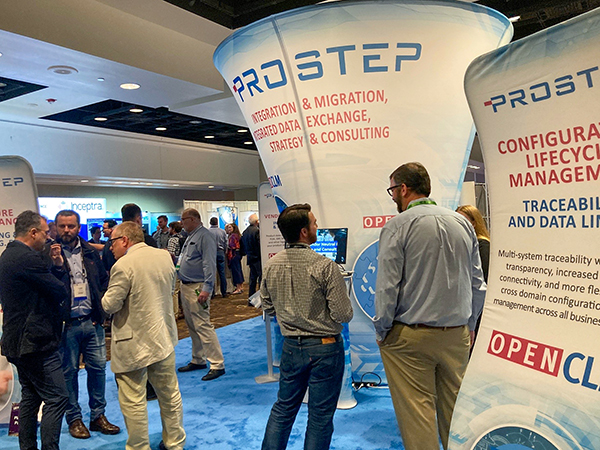 In addition, PI DX USA 2022 was once again held as a live event in Houston, Texas, following a year's hiatus due to the pandemic. It was sponsored by PROSTEP, Inc., among others. As the lead sponsor of the event, Dassault Systems was instrumental in bringing together key figures from the field of engineering to learn more about data intelligence, design strategies, smart factory and PLM. PROSTEP CEO Paul Downing and his team took advantage of the opportunity to meet with industry leaders such as Cummins, Tenneco and Moog.
By Joachim Christ